If you own a business in the fashion industry, you have landed on the right page. Here we will explore the key concepts to keep in mind when optimizing your webshop search for 2020-standards user experience.


Optimizing your webshop search

In the very competitive environment of online fashion retail, it is important to catch users' attention, trust, and, well, pockets, in the very first seconds.
This includes them finding what they are looking for on your website at instant speed.
Check if your webshop search is well-optimized for the following parameters:


Product Quick View – Dynamic Search

Enabling products to appear while the users are typing their search request is the first step to shorten your checkout path to a few clicks.
With the right search results displaying the most relevant and popular items, the user may not even need to browse through other categories.


Dynamic Filtering and Categorization

Adding dynamic filtering and category search is a must for a webshop, especially in the fashion industry.
Filtering by color, price, brands and other categories enriches the shopping experience and makes it easier to find the necessary items or just browse through the shop.


Precise and Individual Colors

While being less essential for food or tech industries, color is one of the most crucial parameters when it comes to fashion retail.
Being able to find the right fit quickly while considering all the visual nuances and color shades is what users are looking for the most.



Kea Labs Smart Search allows you to filter by colors that are actually present in your offering and not just in the standard palette giving an opportunity for the most precise search.


Recognizable Brands

Showing off the brands in your offering gives you an advantage as a small business to be recognized and gain the trust of your customers.
Often, loyal customers may stick to one or two brands of clothing and may be looking for only these specific ones. Here you have a lot of opportunities to win or lose.
With your search and product descriptions optimized for brand names, you have more chances for completed expensive purchases.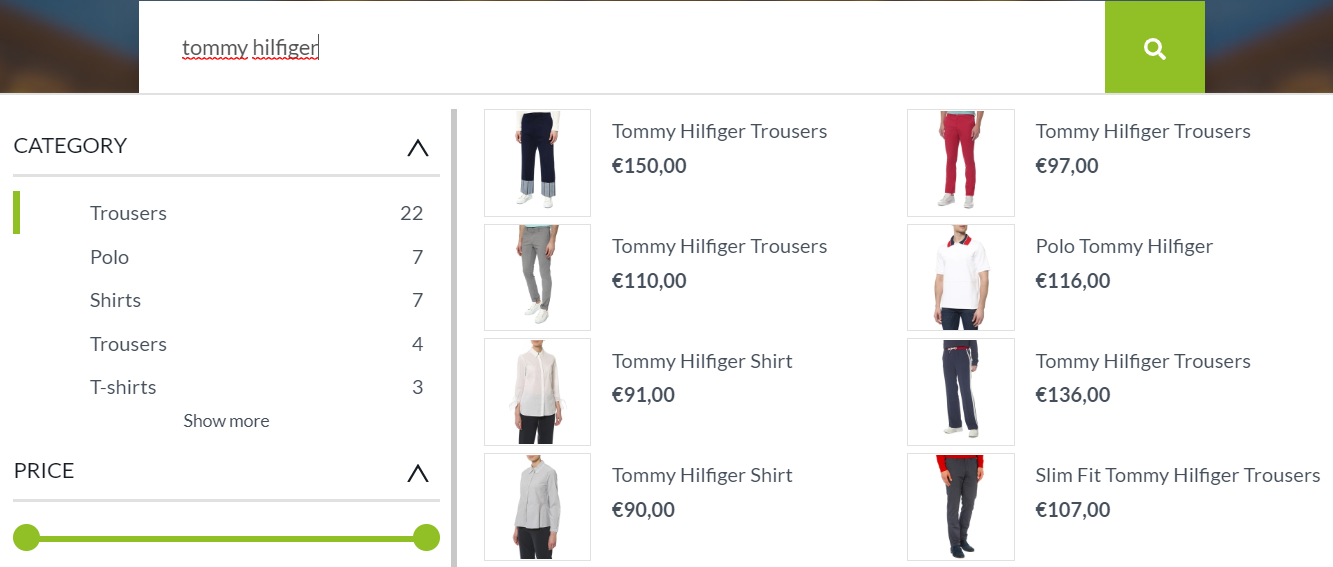 Gender Demographics

While the world may be getting closer towards equality, recommending dresses to men might still be not the best idea.
The same goes for genderless items like shirts. The search should either recognize the gender of your customer or offer a gender switch in the categories.
Make sure that your gender properties are assigned correctly in the product descriptions, as this is relevant for the sizes as well.


Regional Filtration

When operating in different regions, you may have some goods only available in certain geographies.
Smart search identifies the users' locations and compares it with the items available in stock.


Seasonal Trends

It helps a lot to have the most needed items displayed instantly. And to avoid irrelevancies, like for example, sandals in winter or winter jackets in July. While some users still may shop for it, the majority will most likely look for something wearable instantly.
Seasonal trends work perfectly when combined with recommendations
installed. The recommendations engine compares product characteristics and detects similar items applicable to each. At the same time, smart search puts products together into groups, for instance, "winter shoes".


Personalized Search

When users come back, their experience will always improve if you are using personalization tools. More relevant products will be suggested based on their previous behavior data.
Check out our demo search tool to try out different parameters relevant to your business and play around with dynamic filters, colors, prices, and brands.